What is the difference between full cup bras and balconette bras?
We're often asked what the difference is between full cup bras and balconette bras so here's our take on how these bras differ and which you may prefer to wear depending on your shape.
Balconette bras are a popular choice at the moment due in part to their shape and the fact that they suit a range of bust shapes and sizes. Full cup bras on the other hand have been somewhat neglected by ladies in the past due perhaps to perceptions that they're only for more mature ladies. This however is changing and brands are now producing some beautifully modern full cup bras.
Full cup straps Vs Balconette straps
So let's talk bra straps.
Balconette bras have wider set shoulder straps that are connected to the edge of the cup nearest to the underarm with very little fabric connecting them. This doesn't in any way affect the strength of the bra however as the straps should only be doing 10% of the work. They tend to be square edged and look like this.
Balconette bras are perfect for wearing with scoop or square neck tops or even a slight V-neck.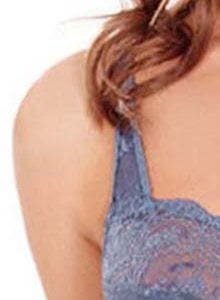 Full cup bras on the other hand have straps that extend upwards from further in towards the center of the cup. The spot at which they connect to the cup will be wider than it is on a balconette bra. They often look triangular in shape and may feature a lace trim.
Full cup bras may be worn with scoop or square neck tops depending on the height of the cup. They may also be worn with a V-neck due to the lower center gore.
Full Cup cups Vs Balconette cups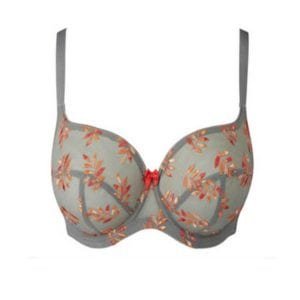 The cups on a balconette bra are often made of three or four pieces of fabric sewn together. These individual pieces help to shape the bust giving a rounded, forward facing appearance. This shape is often considered by ladies to be youthful which may help to explain the popularity of this bra style. Underwires on a balconette bra are deeper in the center than a full cup bra thus giving good separation for those with a bigger bust. The top of the cups on balconette bras can vary. The Tango (pictured right) has a solid edge however some balconette bras are made with a lace edge. Which of these you choose may be down to preference however many ladies with a top heavy bust will lean towards a solid edge bra as it helps to reduce any movement in the bust. The lace upper cup on the other hand is more flexible so tends to suit ladies with a shallower bust (flatter on top) or those with asymmetric breasts, when one is slightly larger than the other. In this case the stretch in the fabric allows it to fit to each breast individually without leaving any loose fabric.
Cups on a full cup bra tend to be made of two or three pieces of fabric sewn together to give a deeper cup at the bottom and a shallower cup at the top. The center of these cups will be slightly lower than a that of a balconette bra. The full cup style is perfect for those with closer set breasts as the wires will be lower in the center thus stopping any digging into the breastbone. Full cup bras are also a great fit for ladies who have fuller breasts underneath than on top. If you struggle to fill out the top of a balconette bra this may be something you'd like to try. Full cup bras, like balconette bras may also have a solid or lace edge.